Celebrate Independence Day
Looking for some great ideas, activities, and events to spice up your Canada and Independence Day celebration and provide some learning for kiddos?
Look no further, I've got you covered!
Both Nation Days are a perfect opportunity to engage kiddos in a few history lessons while building family community and creating memories.  I'm going to share several opportunities for you, your family, and your friends to engage in some Nation Day fun with a learning twist.
How do you, your family, and your friends
celebrate Canada and/or Independence Day?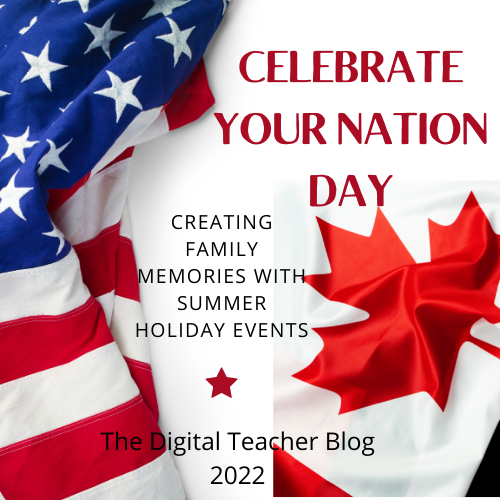 With every blog post, I like to share an ENRICHMENT free resource with you, so you and your family can implement the ideas right away and create valuable opportunities and memories.
So, with this post, I decided to share some of my family's favorite ways to celebrate Independence Day, and these ideas can be used to celebrate Canada Day, too.
Over the years, we have had the chance to try new celebration ideas. Each one has been a perfect opportunity to expand our learning about this holiday, even each other, and create some fabulous family memories to cherish!
I hope this free resource does the same for you, your family, and your friends. 
You can get your free resource by clicking below.

Get Your 10+ Independence Day Fun

Celebrate Independence Day ~ Special Events
Most communities, big and small, celebrate Independence Day with a fun, festive tone. Whether there are parades, festivals, carnivals, or firework displays . . . no matter how Independence Day is celebrated, it will be a fun-filled community event.
What festivities does your local community share with its' members?  What are your favorites?  Will you try something new this year?
This post may contain affiliate links, and I may earn compensation when you click on the links at no additional cost to you.
Celebrate Independence Day ~ Create Memories
How does your family celebrate Independence Day?  Do you attend special community events?  Does your family participate in marathons, and walk-a-thons, or enjoy being outside with nature? 
Whatever your family's decision, the important outcome will be precious, priceless family memories.
Celebrate Independence Day ~ Crafts
How will you celebrate? Creating crafts that focus on three colors – red, white, and blue – and include embellishments like glitter and stars will certainly be perfect decorations for the BBQ and the spirit wear clothing that can be created.
This year I created a wreath for the front door and some bows for
the mantel and side table.
Celebrate Independence Day ~ Learning
Celebrating Independence Day with some learning is never the wrong pathway in my Independence Day adventures.  Reading some fabulous books that discuss the events that led up to why we celebrate Independence Day and the events that followed are perfect opportunities to read, learn, and write. Let your kiddos' age and interest dictate what learning takes place.
Some of my favorite titles for younger kiddos
are listed below.
Did you find value in this Independence Day
post and resource?
I hope you did, because each week I do my best to provide valuable, educational resources that you can implement into your family and teaching context to save you time and energy, so you have more time and energy to do what you love . . .
teach and create family memories!
Independence Day: Related Resources
Before I finish this post, besides the information shared and free resource I prepared for you, check out the links below for more ways to celebrate Independence Day!
Independence Day: Final Thoughts
WOW!!  I am excited for you and your family to celebrate Canada and/or Independence Day and begin some new traditions. Regardless of the national holiday you celebrate, the 10+ Events to Celebrate Independence Day are equally perfect for any national holiday celebration!
Remember to check out additional local community sites and see how these can provide fun learning for your kiddos while creating new traditions and family memories.
Each Monday, I post a new educational piece and free resource on my blog.
Throughout the week, I share additional resources and training on my Facebook page and community ~ Blue Ribbon Teacher and Engage, Educate, Excel
I'd love to hear how you and your family enjoyed these ideas and activities with the comments placed below.

Click here to get your FREE resource

Now my friend, click on the link above, take this free resource, and give the events a try.
Come back and share your results with a comment below because I'd love to hear from you!!