One of my favorite back to school lessons is "A Caring Being". This is a great social emotional lesson that I implement the first week of school. This lesson builds upon the Learning Guidelines Lesson. Now that students have developed and agreed upon the class learning guidelines (I make them sign an agreement – an anchor chart – that we also post in the classroom), it is time for us to further cement the kind of people we want in our classroom.
The students work in self selected teams and think about the character traits they would like others to have in our classroom.
NOTE: I introduced the "character traits" term during reading class and read aloud prior to this lesson.
Again, students collaborate to come up with their expectations of "A Caring Being" character traits. I have given each group an anchor chart that has an outline of a small body. On the inside of the body I write "I am a caring being". After some conversation about positive and negative character traits, students write positive character traits on the inside of the body and negative character traits on the outside of the body. Then each group stands and shares their team's thoughts. It is always important for the students to share their thinking and knowledge with their peers, as this builds self-confidence and "buy-in" to following the expectations.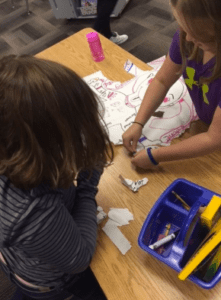 Once all student teams have shared and we agree on the traits, this next part is VERY important!! Students use scissors to CUT AWAY the negative character traits. They physically place these traits in the garbage to show that those traits are NOT WELCOME in our learning community. The students enjoy this part AND everyone must have an opportunity to cut and throw away.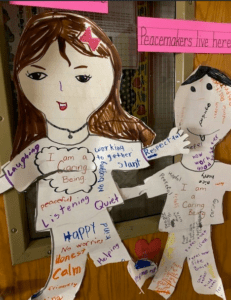 It is fun to watch the students collaborate, learn, and grow with this lesson.  By the end of the first week of school, our learning community is coming together. We hang up the Caring Beings in the classroom as a reminder of the lesson and character expectations agreement.