Children's Literature: Using Experts
I remember taking a class about children's literature in my undergrad studies. This was one of my favorite classes because I was able to enjoy reading children's literature and use the book as a spring board for lessons.
I was also fortunate to experience the pendulum swing from whole language to skills based basal instruction during my education career. Fortunately, I've been able to pull the best from both sides of instructional theories, with additional strategies sandwiched in between, to use children's literature as an instruction resource and tool for my students.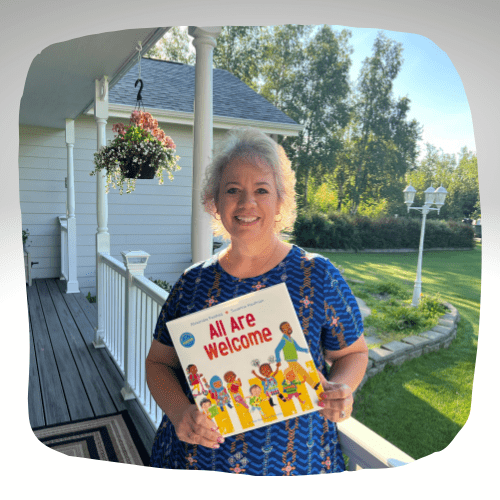 This website may contain affiliate links, and I may earn compensation
when you click on the links at no additional cost to you.
Although teachers still use children's literature to teach literacy skills and strategies in today's classroom, the lessons look a little different.  Most teachers use a basal literacy program, but oftentimes, the story in the student's book is a partial or smaller section of the original book.  While teaching literacy skills continues to be a focus at the elementary level, students don't have opportunities to read the entire story to truly appreciate the text. 
In this post, I will share how you can use children's literature – any book – as a teaching resource.
Why is this important?
Teaching literacy happens ALL the time. Becoming a skilled educator teaching with children's literature resources, enables students to gain a deeper understanding of literacy skills across all curriculum lessons.
Children's Literature: Tips to Get Started
An IMPORTANT NOTE when teaching with children's literature: Before you present the book for a lesson, take time to thoroughly read the book – several times.
Using your understanding of the student's literacy knowledge and the next step along the literacy continuum, you'll be able to use any book as an instructional resource. Using grade level standards will also provide a sequential approach with targeted information to guide your lesson.
Below are some of my favorite "Back to School" books to read and build classroom culture. I read the books for a classroom culture building lesson, then reread these with the students at another time as a literacy lesson.
Children's Literature: Word Study
Word study is the foundation for developing reading and writing skills. It is the study of how words are formed, their relationship to other words, and how they interact together to make sense.
After you have identified the specific skill(s) or strategy(ies) your students need, reread the children's literature again with a focus on the skills/strategies identified for the students learning sequence.
Now that you are very familiar with the text, use post it notes and write specific thoughts on the notes related to the skill/strategy to use as an instructional guide during the lesson. 
Finally, practice delivering the lesson using the knowledge of student understanding, information in the text, and post it notes. Taking this extra time to practice lesson delivery provides you the opportunity to ensure students are engaged in the lesson while allowing a natural conversation about the story. In the end, this practice will ensure your lesson is more successful.
In the video below, I pull the curtain back on this story, All Are Welcome, and share with you how to use this book as an instructional resource to teach word study.  Check out my YouTube channel for additional lessons. 
Children's Literature: Writing
Teaching writing with children's literature is an excellent tool!!
Who better to learn writing from than published authors – the EXPERTS!
Using the same guidelines shared above to teach word study, you'll focus on developing writing skills, strategies, and craft.  Remember: always assess where the students are at and build knowledge from that point using children's literature.
TIP: When using children's literature to teach writing, use several texts and different genres to demonstrate how authors use the skill, strategy, or craft in different texts.
I created a video using the same text shared above, All Are Welcome, to demonstrate how to teach writing with children's literature. Check it out!
For MORE literacy lesson ideas and inspiration, get my FREE resource below.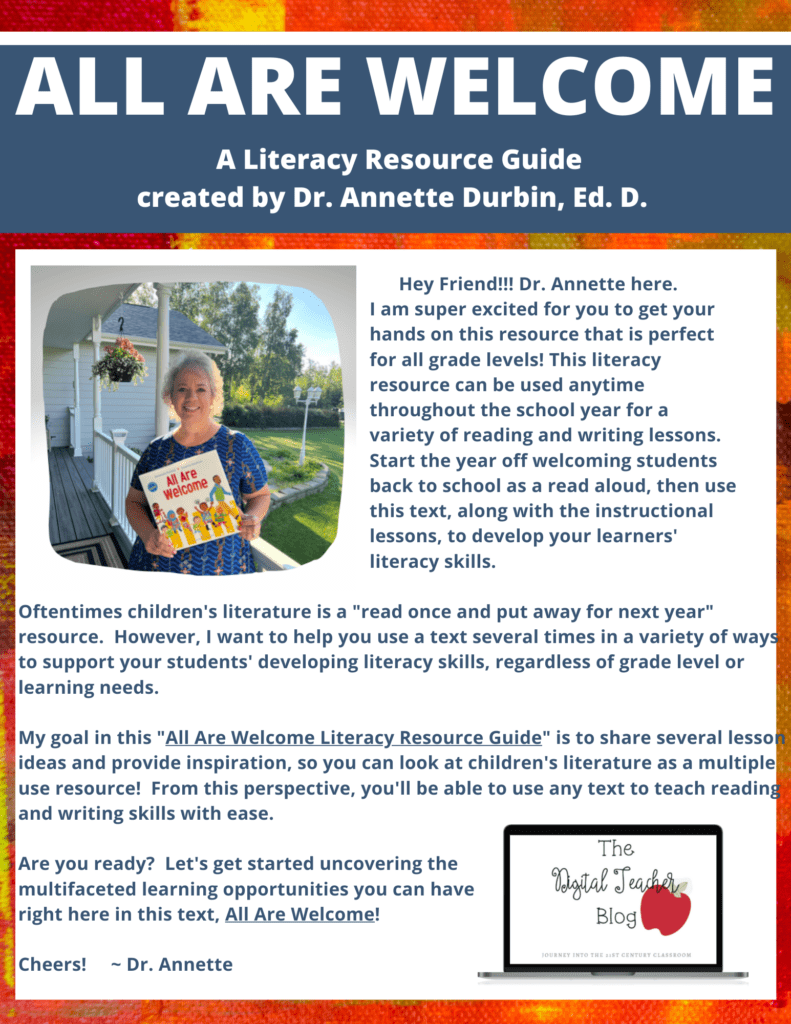 Children's Literature: Reading
Learning how to read a variety of genres opens the door for
using imagination and further learning.
As I shared at the beginning of this post, oftentimes the stories students read in their student reading book is a small excerpt of the larger text. As a result, students do not have the opportunity to continue reading the text to practice their reading skills/strategies nor for pure enjoyment. Children's literature books are typically short enough to read over one or two lessons allowing students to gain a complete and thorough lesson focus with additional practice from the same text.
So . . . how do you use children's literature to teach reading?
Remember those guidelines I shared in the word study section, you'll start with the same procedures for reading.
Like the writing lessons, when you are using the text to teach, provide additional opportunities to practice reading skills and strategies in a variety of texts and genres.
TIP: Help students compare and contrast the differences between fiction and nonfiction reading texts.
See the video below on how I use this same book, All Are Welcome, to teach reading skills.
Children's Literature: Related Resources
Check out these additional resources to support literacy instruction. I also have several video lessons shared on my YouTube channel. Check those out for more ideas.
How to Teach Imagery with Picture Composition
Visual Literacy: Writing in Colors with Picture Composition
Have You Filled Your Bucket Today?
Children's Literature: Final Thoughts
Using children's literature to teach word study, writing, and is my favorite way to teach literacy. Students get excited and love to read! They learn from "real literature", "real experts", and practice new skills in books they read everyday.
When you pick up a children's book and read this from an instructional perspective, you will be able to teach any skill or strategy in any content area, while motivating your students to practice these skills and strategies in the texts they read.
In the end, you'll be exciting students to learn and achieve!