Well . . . after spending 25 years teaching in a traditional framework (last post), now I feel like I can finally TEACH! The handcuffs are off, and I am free to inspire, motivate, and challenge my students to be the best learner he/she can be! This in turn, challenges me to be the best teacher that I can be!! Sooo exciting!
This past school year (2017 – 2018), I had the opportunity to teach in a blended technology and project based classroom. I collaborated with three other teachers who were also piloting this program for our district. The school year started out a little rough, since the online learning programs were not ready to go. However, I knew what I needed to do to build my classroom community for a successful year.
I started out the school year with getting to know you activities, team building, classroom building (yes, I've had a lot of Kagan training), pre-assessments, and getting the kids into the idea of learning. Most students do not focus on lessons over the summer, so it's a great idea to ease them into the routine. The first week of school was a full 5 day week, so by the end of the week, the students should be in learning routines.
The handcuffs are off, and I am free to inspire, motivate, and challenge my students to be the best learner he/she can be!
Because this class focuses on project based learning, I wanted to get the kids critically thinking about how to solve problems, look at "things" from a perspective of trial and error, think outside of the box, and work together. I included some videos about flight dynamics, Amelia Earhart, the Wright Brothers, and two guest aviation speakers (my husband and a student's parent). The kids had a lot of fun learning!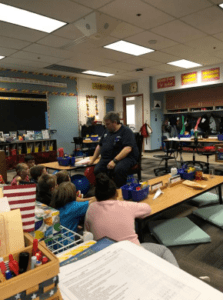 After I provided learning opportunities to build some background knowledge, a STEM lesson was in order. The problem was for students to build a paper airplane with the materials provided to see which plane would fly the farthest. I provided a variety of paper (copy, notebook, construction, poster) and the kids had time to build their own plane in class, test it out IN the classroom or hallway, and adjust their plane design. After time building and testing in class, students researched online or with parents at home about building a paper airplane. The students came back the next day with an improved version of their own airplane and ready for their test flights.
We went outside to engage in test flights. I pulled in math, science, social studies, math, literacy, health, and technology standards with this great problem based mini unit. The students used their chrome book to record data on a document in their Google Classroom.
After students collected their data, they graphed and analyzed the flight results for each plane. From here, the team had to choose the one airplane that would represent their team in "The Air Show"! This was a great opportunity for the teams to work together to improve their chosen plane design and test before the big event.
It was so much fun!!
The exciting part of this first week was that the students were able to work together, think and learn like a scientist, experience a real world problem, and then showcase learning.  They worked as a community and a team member.
I know that this is just the beginning, but I am excited to continue building upon the success of this first week-long aviation unit!!