One learning area that is important for teachers to engage students in is service learning. What is service learning? Service learning is a way for students to do something that betters their community AND engages students in academic learning. It takes the service and educational pieces and puts them together into one project. I try to include a "service learning" component at least three times a year that coincide with the curriculum. My goal is to have the students come up with ideas, but it takes time to get them thinking "big" to see projects in the community.
The beginning of the year is a great time to engage the students in service learning. The first project we did was a great opportunity for students to begin developing their civic skills. Since we're starting the year out building community and learning about citizenship, the first project based learning unit was titled: Cool with School Rules! This was a fun unit to start the year off.
The school principal came into my class to discuss school wide behavior expectations. As part of this conversation, she gave the kids a "charge" to design and deliver some media that would teach all the students in the school and those in the community the Pioneer PEAK Expectations. The kids were very excited to get started with this project!
Service learning is a way for students to do something that betters their community AND engages students in academic learning. 
As we began this project, the students had to do some research about the school wide expectations. I printed off the current expectations for students to review. As the kids were looking over the expectations, they noticed a few "old" guidelines. They asked about discussing this with the principal. So, I sent the students to discuss these errors with the principal, and she allowed them to make updates. Boy . . . talk about ownership!
In order to make certain our work reaches all learners, we sought the support of a few guests. Since some of our students are blind or deaf, I asked the district vision teacher to work with my students on learning about vision challenges AND come up with ways for them to make their media work accessible to blind students. I also asked a hard of hearing parent to come in and teach my class sign language AND discuss ways to make their project accessible to deaf students. This process did take several days, but the kids learned a lot about differences, empathy, and presenting work to be accessible.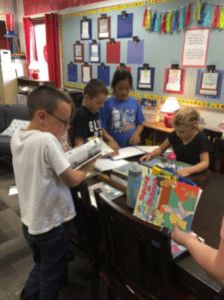 Students examine books written in braille.
It was time for students to choose topics and work with a partner to prepare a visual that would teach people in our school community about the Pioneer PEAK Expectations. Students had a variety of options to present their work. Most students decided to prepare a poster and one group made a book.
Once this work was done, students prepared visual prototype that was accessible to all learners to teach the expectations. Not only did students connect this project to classroom and school expectations, but they also learned how these are expectations for our larger community, too.
NOTE: We did have quite a few guest speakers in the class (also since this was the beginning of the school year and district admin wanted to "see" how the class was going) that first month. When I do this project again, I would certainly include a police officer to discuss following rules and procedures and why these are important – another community focus point.
Students spent time working on the projects to ensure they were top notch – this included planning, designing a prototype, and preparing the final product. I wanted to make sure the students understood that you just don't go from idea to finished product in a day. It does take time. During this process, students presented their prototype to the class. Their peers provided constructive criticism for each group as they presented. I was excited to hear the comments the students made to support each other. As a result, I decided to have the students make a project rubric that they would all use to evaluate their projects for this unit and future learning units. They were doing this rubric when providing comments. We just formalized it onto a piece of paper. I love when students take ownership of their learning!!
The students absolutely LOVED working together and doing such an IMPORTANT task with their project. Students placed their projects around the school for all learners to access. They were certainly proud of their work!!
Check this post out for the second visual project related to this unit!