School is out, summer is here, and now it's time to figure out how to celebrate the solstice! I know, I know. Right now, you're sitting at home, resting after a long year of the "school hustle and bustle". Perhaps you're even sipping some iced tea, enjoying a cool breeze, and catching up on some sunshine vitamin D. Ah . . . peace, serenity, vacation!! Yes, please!
However, reality soon sets in when suddenly, you're interrupted by the mere fact that June 21st is quickly approaching! UGH!! Perhaps your own children are excited about the official start of summer and are ready to have more fun, but you're exhausted and don't want to even think about planning summer solstice party activities. Yes, I've been there!
Not to worry, my friend!! I've got you covered with summer solstice party activities that focus on fun with a sunshine splash of learning. From summer solstice party food ideas and celebrating the summer solstice ideas to even learning about the Alaskan midnight sun, your family will have loads of fun celebrating your very own "Summer Solstice Festival 2023"!
Planning Your Summer Solstice Festival 2023
I have had lots of practice celebrating this fun summer holiday. Why? Here in Alaska, it's tradition! We enjoy this midnight sun celebration day, every year. Why?? Alaska is known as the "Land of the Midnight Sun!
Now, when planning your Summer Solstice Festival 2023, there are several items to consider. Besides the scrumptious foods and decorations I'll share about in a minute, we are going to take this opportunity to add a little extra learning to this special day.
Did you know celebrating the Summer Solstice is perfect for having fun coupled with learning! The BEST learning opportunities are "meaningful" and make an "emotional connection"! This is a great way to help your children understand what is the significance of the summer solstice. So, let's see how we can do both and with a splash of fun!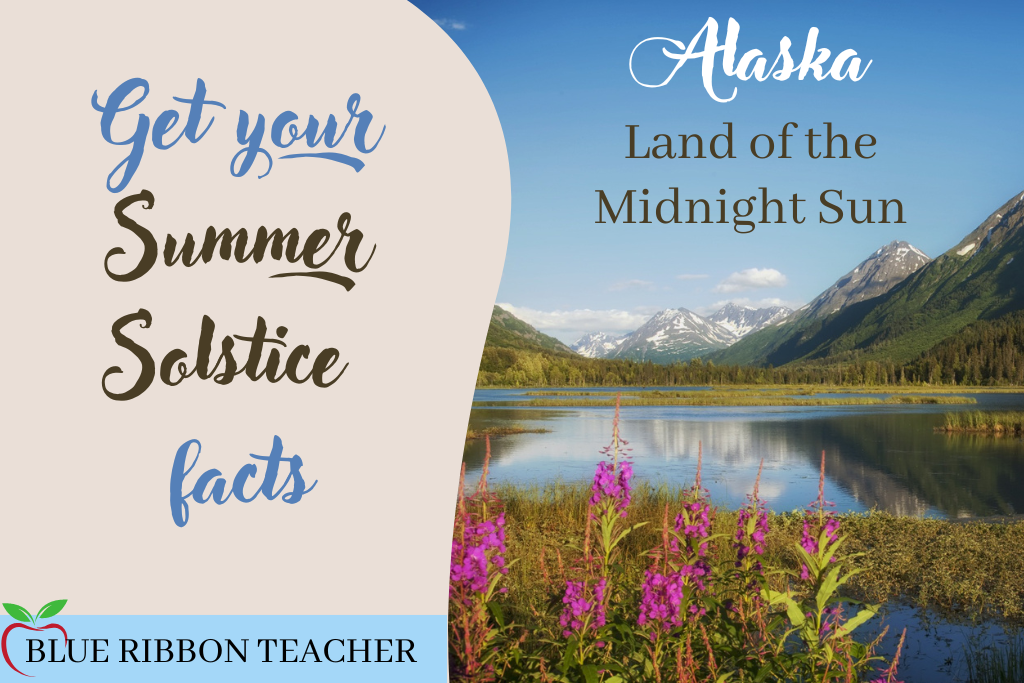 When Does the Summer Solstice Start
The summer solstice is Wednesday, June 21, 2023! This is the day when the Earth arrives at the point in its orbit where the North Pole is at its maximum tilt toward the Sun (Almanac, 2023).
The date and time can change from year to year, since the Earth takes 365 days plus 6 hours each year to orbit around the sun (hence Leap Year); however, the summer solstice will always take place between June 20 and 22. Check your calendar each year to find out the answer to when does the summer solstice start.
What is the Significance of the Summer Solstice
Historically, the summer solstice had significant meaning to people. The Greeks mark this day as the start of the New Year; whereas, the Romans celebrate their goddess, Vesta, to honor the home and hearth. Interestingly, some cultures celebrate this day as a midsummer gathering with bonfires. These cultures believe the bonfires would rid the community of evil spirits and demons (St. Neots Museum). While some cultures celebrate the solstice as light overcoming darkness or harvest, others celebrate a new beginning, an opportunity to focus on a positive mindset and happiness.
Today we celebrate the summer solstice every year to mark the beginning of summer and the longest day of the year. Oftentimes the summer solstice party activities include time with family and friends. Why do you celebrate the summer solstice?
What is the Summer Solstice Festival
Since this special day comes once a year, people will celebrate the summer solstice in a variety of ways depending upon their culture. In the United States of America, oftentimes this celebration includes BBQs, food, games, music, and even fireworks with family and friends.
In my state, we celebrate the Alaskan midnight sun with a Mount Marathon race up a mountain, BBQs, fireworks, and baseball and yard games at midnight. Oftentimes each community holds its own unique celebration and can last over a three day period. Why? Since the solstice can range from June 20 to 22 yearly, it is not a surprise for celebrations to occur over a three-day period.
How to Celebrate the Summer Solstice
How do you celebrate the summer solstice? As a child, I do not recall any special "things" we did to celebrate. It was just another day. Of course, now I take this day with new meaning, especially since we all know that there are extended amounts of daylight or darkness at different times of the year here in Alaska.
Depending upon where you live, you may not even notice the extra amount of light. Closer to the equator? Probably not. Closer to the poles? Most definitely!
Alaskan Midnight Sun
People often ask me, "Does the sun in Alaska go down at the solstice?" Well, at the winter solstice there is a lot of darkness; however, the summer solstice, the answer is no. You see, in the most northern parts of Alaska, the sun does not set for several days. In some places, there is daylight for two and a half months. As a matter of fact, in Utqiaġvik (aka Barrow), the most northern Alaskan village, the sun does not set for 84 days with the summer solstice being the middle of this timeframe. Yes, for 84 days straight, there is daylight for 24 hours a day (Alaska, 2023)!
Where I live, closer to Anchorage, we have daylight for more than 22 hours with the remaining two hours as a twilight. It is interesting to see people washing their cars at 1:00am or mowing their lawns at 10:00pm. Yep, this happens! Therefore, in Alaska, this day is marked with a midnight sun celebration.
We celebrate the summer solstice spending our time outside. Are you looking for summer solstice party activities? Get your pen and paper ready: hiking, camping, BBQing, mountain climbing, playing yard games, four-wheeling, canoeing, boating, fishing, reading a great book, swimming . . . anything OUTSIDE to enjoy this long day and the midnight sun – rain or shine! There are parades, festivals, music, baseball games at the ballpark – yes AT MIDNIGHT, even a mountain race in Seward, Alaska called "Mount Marathon". Anything we can do, we do it outside.
Check out how this small town, Seldovia – only accessible by water and air, celebrates the summer solstice with a three day festival.
This post may contain affiliate links, and I may earn compensation when you click on the links at no additional cost to you.
Celebrating the Summer Solstice Ideas
One of the exciting things about the summer solstice is the opportunity to learn about the planet Earth. Of course, this learning can be a springboard into many other areas like solar energy, Summer Olympics, and health and safety during hot summer days. Besides participating in many fun learning opportunities, reading is a foundational piece for learning new topics. Check out these celebrating the summer solstice ideas to add to your learner's Summer Solstice Festival 2023!
Geography and Science
Review a map: Alaska state, USA nation, or world. Find north latitude 66 degrees – the Arctic Circle. Learn what is the significance of the summer solstice, the significance of latitude in relation to the sun, and the Alaskan midnight sun.
STEM ~ Engineering
Build a solar powered cooker. Supplies: box, foil, 5 insulation panels, hard plastic board, glue, and tape. Use the energy from the sun to cook a s'more or an egg. Experiment with different foods. Use a thermometer to monitor the temperature.
Reading and Science
Use books and technology to study the sun, earth, and how these interact together in relation to the summer solstice. What can you predict about the winter solstice?  Check out these books about the summer solstice.
Math and Social Studies
Learn about sunrise and sunset in your area, Alaska, Alaskan midnight sun, or a place north of the Arctic Circle. Graph data from your area and extend learning by comparing this data to another place in the world.
Science, Reading, and Writing
Research solar energy and the summer solstice by using books and technology. Write a nonfiction book to share your learning.
Writing and Reading
Create a poem or two about solar energy or the summer solstice, based upon your learning.
Health
Research the benefits of the sun, as well as the harmful risks the sun brings. What are you doing to use the sun, but still protect yourself?
Art
Create solar art using bubbles. Supplies: bubble mixture, wand, tempera paint, and watercolor paper. Mix some paint with bubble mixture, blow bubbles onto watercolor paper, let the bubbles dry with heat from the sun. Change the bubble mixture with another paint color and repeat the process. Repeat as many times as you'd like. Remember to frame this piece of art!
Drama
Learn about the water cycle and how the sun plays an important piece to this cycle. Act out the water cycle, add music and dance.
Music
Sing some songs about the sun, create your own songs, add music to one of your solstice poems, and share with family.
Whether you are running a summer school program, summer camp, or enjoying the holiday with your family, snag these ideas for added value to your celebration! You'll just need to decide ~ is the summer solstice festival 2023 celebration three days long or done in a full single day? Oh the decisions!!
Summer Solstice Party Activities: Family Engagement Activity
The best way to celebrate your summer solstice festival 2023 is to have fun and learn with family! Besides all the fun shared above, here even more family engagement ideas for your summer solstice party activities.
Summer Solstice Party Food Ideas: It's All About the Food
I don't know about you, but any summer solstice party needs to include some amazing BBQ meats and veggies. I love some tender steaks, chicken, hamburgers, and hotdogs straight off the grill. If we have some fresh salmon, this is excellent! I'm including a few of my favorite summer holiday recipes here for you to give a try.
10 Favorite Cookout Side Dishes
Celebrating the Summer Solstice Ideas: Bubbles with STEAM
Are you looking for a family engagement resource? Summer Solstice party activities? Maybe you're looking for lessons with a STEAM focus? Perhaps you're looking for fun lessons to engage children in critical thinking and problem solving? Maybe your children need time to explore an everyday concept and dig deeper into conceptual understanding? Well, this is the resource for you and your children with a fun focus on . . .
Bubbles with STEAM!!
Look no further!! This K-2 editable STEAM Family Engagement resource was specifically designed to focus on reading, writing, listening, and speaking skills while incorporating standards in reading, writing, math, social studies, science, technology, and the arts.
This resource is perfect for any student in general education, special education, English language learner, migrant education, and students who are language deficient. The feedback I received from students and parents was evidence of the Bubbles with STEAM Family Engagement success!
More How to Celebrate the Solstice Related Reads
Check out these great reads for more summer experiences.
School's Out for Summer . . . Now What?
How to Celebrate the Solstice Final Thoughts
Although we are often off from "official schooling" during the summer, there are several opportunities to continue learning in new and exciting ways. Summer is the perfect opportunity to have meaningful and emotionally connected learning experiences.
This summer, take time to learn how to celebrate the solstice under the Alaskan midnight sun and enjoy a meaningful Summer Solstice Festival 2023!