Technology: Then vs Now
It is fair to say teachers are working with digital natives. Most students have held a device in their hands since the toddler years. As a result, teaching today looks quite different from classrooms twenty years ago. Therefore, teachers must embrace technology as a learning tool and overcome challenges.
Are you struggling with what to teach your students when it comes to being a good digital citizen?
Perhaps your challenge is finding learning resources. Searching for lessons to tweak and implement easily into your instructional day.
Maybe you're wondering how to embed technology into lessons.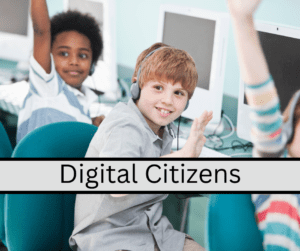 This post may contain affiliate links, and I may earn compensation
when you click on the links at no additional cost to you.
Finding the RIGHT resources can be hard, but here's a secret . . .
There are several resources such as lessons, picture books, tips and ideas from a variety of reputable educational organizations that promote digital citizenship. I've done the research and am sharing the deets with you, right here, starting today!! (insert applause and smiles)
First, check out, The Technology Tail, read aloud. I love using this book to teach students how to be a responsible digital citizen.
Technology: About Digital Citizenship
Today I will focus on Digital Citizenship. Traditionally, every October, especially the third week, schools focus on lessons to promote digital citizenship skills, knowledge, and dispositions. In this post, I am featuring several resources. You'll find lessons and tools to implement in tomorrow's lesson plan and empower your students to be great digital citizens.
First, let me ask you a question. Are you aware of any technology standards that your students need to learn? You can find these standards from your school, district, state or organization.
Typical technology standards include things like: creating a word doc and powerpoint or being safe and searching for information online. However, more state standards are designed using "technology pillars" such as digital citizenship.
If you are not sure about your own technology standards, pause here. Locate the expectations for your teaching context. Pull those standards out and review the expectations. Remember to come back to learn more about the digital citizenship technology pillar.
Check out how these students demonstrate the
Technology Pillar, Innovative Designer,
at my district's Technology Expo!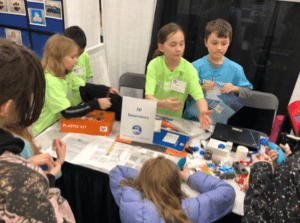 Technology: ISTE
Alright, now that you have your technology standards, let's look at how these standards are taught. If you don't have technology standards available, no worries. Let's use the International Society of Technology Education student standards – aka ISTE.org.
When on the ISTE website, it's important to know there are additional standards with different purposes. This leading organization maps out a variety of educational stakeholders and shares specific standards for each one. However, for our purposes today, let's focus on students.
Technology: Seven Pillars
You'll first notice there are seven different "technology pillars":
Empowered Learner
Digital Citizen
Knowledge Constructor
Innovative Designer
Computational Thinker
Creative Communicator
Global Collaborator
Here are some of my favorite books to use for technology instruction. They also make great books for reading and writing instruction, too!!
Each pillar focuses on a different aspect of using technology for learning. Taking the time to engage students in learning about each of these standards is important. While embedding technology throughout the curriculum is best practices, taking some time, perhaps a month, to focus on one pillar would be a great way to ensure students thoroughly learn about each pillar. Then students will be able to identify in the appropriate usage when a pillar is activated.
Like other subject standards, instructing and learning should be developmentally and age appropriate.
Keep in mind, technology threads through all subjects. The best way to teach any technology standard is going to be cross-curricular and embedded within your day-to-day instruction.
Technology: Digital Citizen
Since we are focusing this post on Digital Citizenship, let's dive into these standards.
What is the Digital Citizen pillar about? As stated on ISTE ~ Students recognize the rights, responsibilities and opportunities of living, learning, and working in an interconnected digital world, and they act and model in ways that are safe, legal, and ethical.
Learn more about Digital Citizenship in this video below.
Technology: Unpacking the Pillar
Based upon this pillar, Digital Citizen, there are four ways students can work towards this being a responsible Digital Citizen. I will share and discuss the four points in the pillar.
Using technology to make your community better

~ What does this mean? Think . . . how is technology a resource to improve our relationships, work, and interactions. Remember when thinking about the term "community", there can be several examples from school, classroom, sports, club, neighborhood, church, etc. Depending upon your teaching context, determines the community. Remember to teach the term broadly, so students can connect this content into their own communities.

Engaging in respectful debate

~ How many times have you read a posting on a community social media page or post where people are not being respectful in sharing his/her perspectives? Many times, I'm sure. Providing opportunities for students to engage in a respectful debate in a learning environment is the perfect way for students to make mistakes and learn together before they enter a larger digital platform. Practicing this skill in a safe, learning environment allows students to learn from their mistakes with less severe consequences and teachable moments.

Shaping public policy

~ Public policy? How am I supposed to teach this in the school setting. I want you to think outside of the box here. What communities are students engaged in where rules and procedures are established? Sometimes these rules are established for the students and other times, students can participate in designing these rules? You guessed it!! Your classroom!! Your home!! Your sport team!! YES!! These are great opportunities for students to think about the community and how rules and procedures (aka team agreements) are necessary to have a safe, successful, and functional organization.

Recognizing the validity of online resources

~ Ahhh . . . this is a great learning opportunity for students. How often do students see something online or in print and think that it is factual? Learning how to ensure something is valid is very important. Students typically learn these skills in reading lessons (fact/opinion, nonfiction/fiction), then in visual literacy focusing on commercials and movies. I'm sure there are a lot of examples for lessons that can also be drawn from the playground and/or sibling disagreements. Teaching these same skills about truth and validity in the digital world is just as important.
Want to learn more about teaching your digital natives?
Check out this post discussing 21st century pedagogy.
Technology: Extending Knowledge
Alright, besides the four points of information shared, the ISTE website has several videos that break down each standard into bite-sized pieces and discuss each piece within a video. To become more familiar with each "technology pillar", take a moment to view these quick, informative videos.
Technology: Related Resources
Remember, although the third week in October is devoted to learning and teaching others how to be a Digital Citizen in a digital world, this information is worthy of teaching throughout the entire school year.
I have several free resources to support your instructional technology work throughout my blog. Additionally, you'll find several free resources, too.
Digital Citizenship in a Digital World
Technology: Final Thoughts
Before we sign off today. I want you to do me a favor. I'd love to hear about the work you do promoting digital citizenship. Can you answer these questions for me and help out other educators?
In the comments below, share one thing you will commit to doing this year to promote digital citizenship?
Share one idea/lesson/tip you use with your students to promote digital citizenship.
Please share this post, videos, and information with your fellow educators, so we can support education for all students.
I hope you find value in this post today!! If you have questions, please reach out and I will be happy to assist. Consider joining our online Facebook community at Engage, Educate, Excel for more conversations, tips, networking, and resources about teaching and learning.
Remember to take a quick moment and snag the free resource I created with lessons to support the Digital Citizen pillar.