What's your Lesson Plan today? Start Here.
Connect with Dr. Annette to overcome the instructional challenges and demands elementary teachers face every day. Utilize a variety of resources to build a classroom culture with a literacy focus and differentiate instruction in the classroom to ensure optimal success for every student.
Blue Ribbon Teacher Testimonials
Join our community to collaborate, network, build your resource files, and experience professional growth, so YOU can be your very own version of an AMAZING Blue Ribbon Teacher enjoying a satisfying professional journey and successful career!
Coaching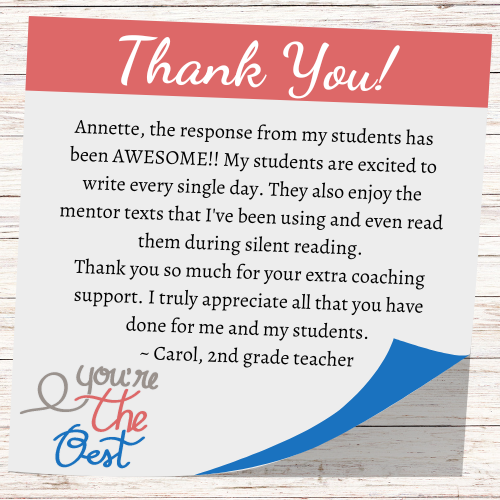 Literacy
Coaching
This Week's Featured Blue Ribbon Teacher Resource
Teaching students social and emotional skills can be challenging. There are many perspectives and experiences outside of the classroom that impact topical discussion.
However, over the years, I have found common ground in teaching children's literature. These books build social, emotional, and literacy skills simultaneously. Score! This solution is a great compromise to reach all learners' needs coupled with the demands for learning.
Whether you have a classroom of 25 students or a family of a few kiddos, this resource holds wonderful learning opportunities and seeds to further discussion with your learners.
Hey Friend!! Dr. Annette Here
Your Blue Ribbon Teacher Coach!!
I am an enthusiastic, self-motivated, passionate, God-loving elementary teacher who loves learning and helping other students and educators be the very best version of him/herself possible!!
I was that little girl who enjoyed keeping my nose in a book, playing school all summer with my sisters (my students), and working on projects.
After 28 years in the general education classroom spanning grades PK-6, I decided to make a professional change. As a result of my educational experiences and training, I decided to focus my work on English language learners and supporting teachers with professional development.
Over the years, I've continued my love of reading, teaching, and crafting. This passion has inspired me to focus my career on creating a classroom culture built on high expectations in a student-centered environment with a literacy-infused curriculum.
Have a beautiful and blessed day doing what you love!!
~ Dr. Annette
Partner with Dr. Annette using this contact form.