Time! There never seems to be enough time in class to engage students in peer conferencing, share reports, share projects, or time to share "their fun" ideas. So . . . how do you involve technology, literacy, and opportunities for students to listen to student presentations and provide comments?
After some searching . . . I believe I found my solution!
Gone are the days of book report presentations in my classroom. I came across FlipGrid this summer and my mind began brainstorming the various ways that I could use this resource in my classroom. Students are intrigued by video AND making videos. This resource would be a perfect fit for my digital learners. PLUS, the ONLY people that can access the account are people with our secret code; therefore, the privacy factor is elevated.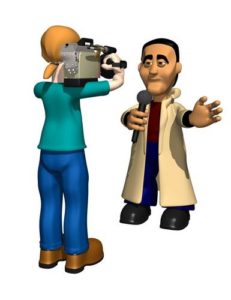 After setting up my class the first week of school, my students' first task was to introduce him/herself via video on FlipGrid.  Students shared a few topics that they think classmates didn't know about them. After the video was completed, I watched each video and then approved it.  Once approved, the video was activated for classmates to watch.  Students enjoyed learning about their new classmates and providing feedback.  I wanted this first video to be a fun topic, yet purposeful and provide students with an opportunity to practice making a video and responding to peers.
How do I use FlipGrid in my classroom:
1.  Since this first introductory video, my students now share at least one book each month with their peers.  Oftentimes, students take share more than one book with classmates.  Video reports are expected to include a book summary and personal reflection; however, after those requirements are met, students are able to be creative.
2.  I've enjoyed watching their videos expand to "how to" videos.  Students have made teaching videos: how to make slime, how to clean your room, how to make your bed, how to get ready for school, and how to draw a picture.  Students started posting these videos on the "Introduction" topic, so I opened a topic for them to "chat" with each other.  
3.  The next topic came about when students were using video as a way to campaign for student council positions.  I opened up another topic that allowed students to direct these videos to a specific place.
4.  During October, students dressed up as a character from their book and shared the report from the character's perspective.  It was fun to watch these students be so creative with their learning.   
5.  While we prepare for parent/teacher conferences, students prepared a 3-5 minute video reflecting upon their learning the first and second quarters.  These videos were shared at each of the conferences.
6.  Another way I will be using FlipGrid is to share science fair projects. Students like to go into detail about their project, and it seems we just never have enough time for them to fully explain and demonstrate their projects during the school day. Using FlipGrid will provide students with 5 minutes of sharing time to allow classmates to fully see their project.
7.  We have also been working with FlipGrid Pals in Oklahoma and Kansas this year. Living as a global citizen, students can connect with others around the globe. The world certainly has gotten a lot smaller!
I am new to FlipGrid this year, but I am pleased with the progress and excited to see where the students direct their learning using this tool. I have seen great progress in video preparation and execution of the final project.  If you are looking for a unique way for students to share learning or demonstrate learning . . . FlipGrid is the way to go!